If you click on a link and make a purchase we may receive a small commission. Read our editorial policy.
Publisher and dev will "amicably part ways".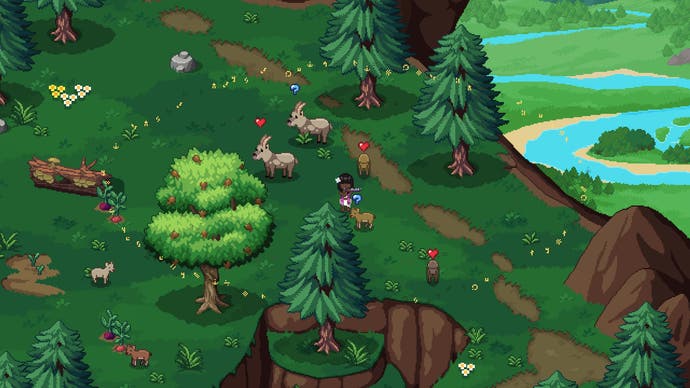 Stone Age farming and village life sim Roots of Pacha has returned to Steam following the end of a rights dispute between its developer and publisher, who have now announced the decision to "amicably part ways under terms that are mutually beneficial".
Roots of Pacha, which launched to an extremely positive reception back in April, was pulled from Valve's storefront by publisher Crytivo earlier this month – a move developer Soda Den claimed had occurred ""without [its] knowledge or consent".
"We worked hard to amicably resolve our issue with Crytivo internally," it said at the time. "Instead of working with us to address the issue, Crytivo went to Valve and authorised them to remove Roots of Pacha from Steam". Crytivo, meanwhile, claimed Soda Den had unexpectedly moved to "unilaterally rescind the contract we had worked under for three years".
Whatever the specifics behind the disagreement might have been, two weeks on, both parties have now released a joint statement insisting the dispute has been resolved.
"Over the past two weeks, Crytivo and Soda Den have worked tirelessly to achieve the common goal of restoring Roots of Pacha on Steam," the companies wrote in their statement. "We are happy to share we have reached an agreement and that Roots of Pacha has been restored to Steam for all to purchase. We also would like to share that Crytivo and Soda Den have made the decision to amicably part ways under terms that are mutually beneficial."
"Soda Den sincerely thanks the Crytivo team for their efforts to support and market Roots of Pacha," the statement continues. "Crytivo sincerely thanks Soda Den for their dedication and craft that went into the creation of Roots of Pacha."
With the dispute now resolved and Roots of Pacha back on Steam, Soda Den is continuing work on its extensive post-launch update plans. It says a patch introducing a range of quality of life features and a "new romanceable character" will launch "in the next month", with plant and animal evolutions to follow later this year. New Tundra and Turtle Islands locations are then planned for 2024, with "other features and improvements in the works."
Read More