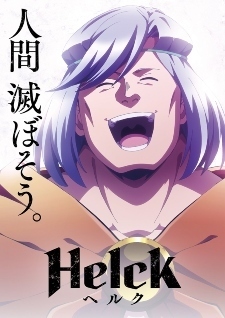 The official website of the television anime adaptation of Nanaki Nanao's Helck manga revealed on Friday an additional pair of cast, theme songs, and the first promotional video. The anime is scheduled to air in 2-cour and will premiere on July 12 at 1:29 a.m. on NTV, followed by BS-NTV.
Yukana (Code Geass: Hangyaku no Lelouch, Full Metal Panic!) and Shuuichi Ikeda (One Piece, Kidou Senshi Gundam) are joining the cast as The Witch and the Narrator, respectively.
Voice actress Hiroki Nanami, who plays Edil in the anime, is performing the opening theme "It's my Soul" and is previewed in the promotional below. Rock band Saji (Tomodachi Game, Shaman King (2021)) is performing the ending theme "Statice."
Tatsuo Satou (Madan no Ou to Vanadis) helms the anime at Satelight. Toshizou Nemoto (Shuumatsu Nani Shitemasu ka? Isogashii desu ka? Sukutte Moratte Ii desu ka?) and Mitsutaka Hirota (Edens Zero) are penning the script. Yoshinori Deno (Phantom in the Twilight chief animation director) is designing the characters and Yoshihisa Hirano (Hunter x Hunter (2011)) is composing the music.
Nanao first posted Helck as an entry for Ura Sunday's "Serialization Contribution Tournament" in 2013 and placed second, winning a serialization. The action fantasy manga ran from May 2014 to December 2017. Shogakukan shipped the 12th and final volume in May 2018. Shogakukan began releasing a new edition in April last year and shipped the ninth volume on April 18.
VIZ Media licensed the new edition of the manga in English on June 17 and released the third volume on May 9, with the fourth volume scheduled to ship on July 11.
PV
Source: Comic Natalie
Read More