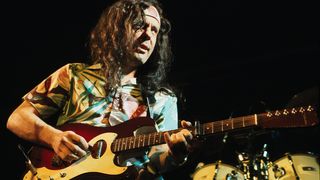 (Image credit: Luciano Viti/Getty Images)

"There are traditions in the world that musicians are aware of – the power of music can do certain kinds of things. You can change somebody's life. A lot of people have experimented with that, want to know what it is, but a lot of it is kept secret. What is it? I have no idea. I think if we knew what it was that made people react to music, we'd find some way to screw with it."
David Lindley, one of the greatest and most distinct slide guitar players and multi-instrumentalists of all time, passed away March 3, 2023, at age 78. 
Brilliant and original, Lindley possessed an utterly unique sound earmarked by the touch, tone, phrasing, and articulation of a true master musician. 
The line on Lindley has always been, "If it's got strings on it, David plays it." Among the many instruments in his arsenal were the guitar, banjo, mandolin, violin, lap steel, Hawaiian guitar, electric and upright bass guitar, as well as the more exotic hardingfele, tambour, oud, bouzouki, cumbus, saz, cittern, baglama, gumbus, charango, and zither.
The first time I saw Lindley live was with Ry Cooder at NYC's Beacon Theater on October 13, 1990. He had nearly a dozen different instruments behind him onstage, and he switched from one to another as the night progressed. 
The band featured Ry and David on vocals, guitars and other stringed instruments; Ry's son Joachim on percussion; and the R&B/soul singers Terry Evans, Bobby King, and Willie Green. I mentioned to David that I attended this show – which was otherworldly – and he said, "Oh man, you saw the one! That was an incredible night. [Bass singer] Willie Green is amazing – with that voice, he's my favorite bass player!" 
David Perry Lindley was born March 21, 1944, in San Marino, California. His parents' eclectic tastes in music exposed him to a broad range of musical cultures, from European classical music and the Spanish classical recordings of guitarist Andrés Segovia, to Korean folk and Indian sitar music. 
Lindley's first instrument was the violin, which he began playing at age three and continued to play throughout his career. He soon picked up the baritone ukulele and the banjo. By the time he was 18, he had won the Topanga Banjo and Fiddle Contest five times – on both instruments.
In 1964, he formed a bluegrass band, the Dry City Scat Band, with future Nitty Gritty Dirt Band member Chris Darrow (who'd later join David in Kaleidoscope). The Dry City Scat Band performed regularly at the Ash Grove in Hollywood as well as Disneyland – which may explain Lindley's penchant for mimicking the high-pitched voice of Mickey Mouse. 
A regular at the Troubadour, L.A.'s premier breeding ground for new talent, Lindley befriended Cooder. Their close friendship resulted in many tours and recording sessions for albums as well as award-winning movie soundtracks, such as Paris, Texas; Goin' South; Alamo Bay; Trespass, and The Long Riders. 
In 1966, Lindley formed the genre-twisting psychedelic rock band Kaleidoscope, which released four albums on Epic Records between 1967 and 1970. With Kaleidoscope, he worked on the soundtrack for Michelangelo Antonioni's 1970 film, Zabriskie Point, contributing the tunes Brother Mary and Mickey's Tune.
In an interview I did with Lindley in 1991, I asked him what it was like working with the celebrated Italian director. He laughed and said, "Antonioni was very helpful. He'd say things like, 'I want something that is very sad… but happy!' or 'I want something that is very slow… but fast!'" 
Lindley also became involved in writing music for television with Mike Post, an old friend from the mid '60s. Post is renowned for crafting the music to some of the most successful TV shows of all time, including The Rockford Files, Law & Order, and Hill Street Blues. 
Kaleidoscope's second album, 1968's A Beacon from Mars, was one of the first "fusion/world music" albums, as the band combined a blues/rock approach with elements of country, folk, and Middle Eastern music. The title track, recorded live in the studio, features a Lindley guitar solo that led Led Zeppelin's Jimmy Page to call Kaleidoscope his "favorite band of all time." In fact, in live performance Lindley would use a violin bow to play this guitar solo, which may have inspired Page to do the same. 
After Kaleidoscope broke up, Lindley went to England to play with singer Terry Reid. In 1972, he began his collaboration with Jackson Browne, which would prove to bring Lindley into the national spotlight. Browne's 1973 release, For Everyman, features David's extraordinary lap steel guitar on the standout tracks, These Days and Redneck Friend. On both songs, his sound on the lap steel is wholly distinct and effortlessly beautiful. 
Like many of us – as in, every guitar player I've ever known – David Lindley's playing on For Everyman was a game changer for me. At the time, I'd just started playing slide after hearing Duane Allman and Johnny Winter, but Lindley was another animal altogether. His was a sound like no one else – a master. The bar was set for every slide player to aspire to.
In 1977, Browne released the most commercially successful album of his career, the seven-times platinum Running On Empty. The title track is driven by Lindley's powerful, laser-like lap steel playing. The follow-up single, The Load-Out/Stay, was another hit and also features Lindley's masterful lap steel work, as well as his wry, high falsetto vocals on Stay, offering some insight into his distinctly original sense of humor.
Lindley would engage this quirky sense of humor in musical terms and as a performer. He had a predilection for bizarre and outlandish clothing as well as a broad array of unusual instruments, oftentimes opting for cheap pawnshop and Sears guitars, because, as he said, "I love the sound you can get from those kinds of instruments." 
Among his favorites were his red National Glenwood, a plastic guitar in the shape of the United States. "That guitar is incredible," he said. "When you get a good one, you can do anything with it." Lindley also loved his Teisco Del Rey Spectrum 4. 
Lindley has been a sideman and session player to many of the most important artists in pop music history, including Browne, Bob Dylan, Bruce Springsteen, Eric Clapton, Dolly Parton, Linda Ronstadt, James Taylor, Warren Zevon, Bonnie Raitt, Joe Walsh, Rod Stewart, Graham Nash, David Crosby, Emmylou Harris, Aaron Neville, Little Feat, Leonard Cohen and many others. 
After leaving Browne in 1980, Lindley formed his own group, El Rayo-X. The band afforded Lindley the opportunity to explore the broad range of his eclectic vision, naturally snaking his way through disparate influences by fusing the sounds of blues and rock 'n' roll with Cajun, Zydeco, and Middle Eastern music. 
Lindley's signature tune with El Rayo-X is Mercury Blues, a hard-grooving lap steel workout that he continued to perform throughout his entire career. Lindley would release three albums with El Rayo-X – 1981's, El Rayo-X, produced by Browne; 1982's Win This Record!; and 1983's El Rayo-X Live.
Lindley would reconnect with Browne in 2006 for a tour of Spain; recordings from this tour were subsequently released in 2010 as Love Is Strange: En Vivo Con Tino. Lindley would continue to perform live with Browne on a variety of other occasions.
Late last year, Lindley's family posted that he had been repeatedly hospitalized for kidney issues, pneumonia and influenza, which developed into long Covid with lasting kidney damage. Lindley leaves behind a broad history of recorded works from over five decades that illustrate his one-of-a-kind virtuosity and thoroughly individual musical persona. His music will continue to inspire and enlighten listeners for decades to come.
Thank you for reading 5 articles this month*
Join now for unlimited access
US pricing $3.99 per month or $39.00 per year
UK pricing £2.99 per month or £29.00 per year 
Europe pricing €3.49 per month or €34.00 per year
*Read 5 free articles per month without a subscription
Join now for unlimited access
Prices from £2.99/$3.99/€3.49
Read More