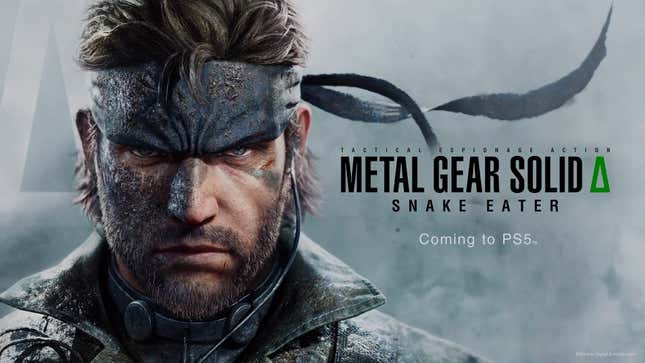 Rumors of a Metal Gear Solid 3: Snake Eater remake have been swirling for years. Now we know all the fan speculation wasn't for naught. Konami revealed at Sony's PlayStation Showcase that the PS2 classic is getting modernized for the PlayStation 5 so players can enjoy it all over again.
Type S: Chiaki's Journey II Volume 4
The remake is called Metal Gear Solid Triangle: Snake Eater and there's no release date yet and the only real look we got at it was Naked Snake creeping through a very dark jungle. The Metal Gear Solid Master Collection, meanwhile, is set to arrive this fall and will include Metal Gear: Solid, Metal Gear Solid 2: Sons of Liberty, and the original Snake Eater.
Metal Gear Solid 3: Snake Eater Remake Reveal Trailer | PlayStation Showcase 2023
News of a potential remake was first reported back in 2021 by VGC
which claimed mega porting house Virtuos would be behind it. The game was to be one of the key milestones in publisher Konami's shift back toward console gaming. Remakes and remasters of other classics in the company's portfolio were also rumored, including Silent Hill and Castlevania.
Read More: Cynthia Harrell, The Woman Who Sang 'Snake Eater,' Is Ready To Be Heard Again
The fifth game in the Metal Gear series, Snake Eater takes place earliest in the timeline and follows Big Boss during the Cold War in the 1960s when he was known as Naked Snake. It arrived on PS2 back in 2004 and was eventually expanded in a version called Metal Gear Solid 3: Subsistence and ported to HD by way of the PS3 and Xbox 360. Depending on who you ask, it's one of the best games, if not the best game, in the series.
The remake announcement is less surprising after Konami revealed last year that Silent Hill 2 would get the same treatment. Given to Bloober Team, that project has remained controversial due to a passionate following around the original version and some negative reactions to the overhauled graphics and changes in art direction for the new PS5, Xbox Series X/S, and PC versions.
Snake Eater will no doubt be in a similarly fraught position, though recent examples like the Resident Evil 4 remake show it's not impossible to faithfully bring a 2004 masterpiece into the present day.
Read More