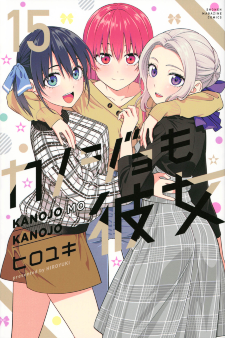 Hiroyuki's Kanojo mo Kanojo (Girlfriend, Girlfriend) manga ended with chapter 144 in this year's 25th issue of Weekly Shounen Magazine on Wednesday.
Hiroyuki began serializing the romantic comedy manga in Weekly Shounen Magazine in March 2020. Kodansha shipped the 15th volume on April 17, with the 16th and final volume scheduled to go on sale on July 14. Kodansha USA licensed the manga in English in February 2021. The 13th volume was released on April 25.
Tezuka Productions adapted the manga into a 12-episode television anime series in Summer 2021. Crunchyroll streamed the anime with subtitles and an English dub. A second season is in production for an October 2023 premiere.
Synopsis
After harboring an unrequited love for years, Naoya Mukai finally gets to date his childhood friend, Saki Saki. However, just as he tries to commit himself to this relationship, he receives an abrupt confession from Nagisa Minase.
At first, Naoya tries to reject her but is soon overcome by feelings of not wanting to hurt Nagisa. Trying to avoid betraying his girlfriend's trust in him, Naoya thinks up a "solution" to make both girls happy—two-timing. Naturally, Saki rebuffs this idea, but through Naoya's and Nagisa's persistence, she reluctantly submits.
With this, a three-way affair begins between Naoya, his girlfriend, and his "other" girlfriend, as they develop a relationship that deviates from the social norm. [Written by MAL Rewrite]
Source: Comic Natalie
Read More