Benson Amps has launched a fuzz pedal that puts a modern twist on the oldest fuzz of them all. The brilliantly named Stonk Box really is something to get excited about if your tastes in fuzz were calibrated on the waspish parp of Keith Richards' Satisfaction riff. 
But vintage fuzz in 2023 can be a moveable feast thanks to component drift allied to the temperature-sensitive nature of germanium transistors, Christopher Benson dreamt up a workaround – an Automatic Thermal Bias feature that guaranteed a consistent tone come rain or shine, snow or hail. 
The Stonk Box is the third of the boutique guitar amp and pedal brand's designs to feature it, following the Germanium Fuzz and the Germanium Boost that were launched in 2021.
Creating these pedals has been something of an adventure for Benson, who says the Stonk Box was based on the first commercially available fuzz – the Maestro FZ-1 of Satisfaction fame – and the variants that came soon after boasting similar circuits, such as the John Hornby Skewes Zonk Machine and Tone Bender MKI.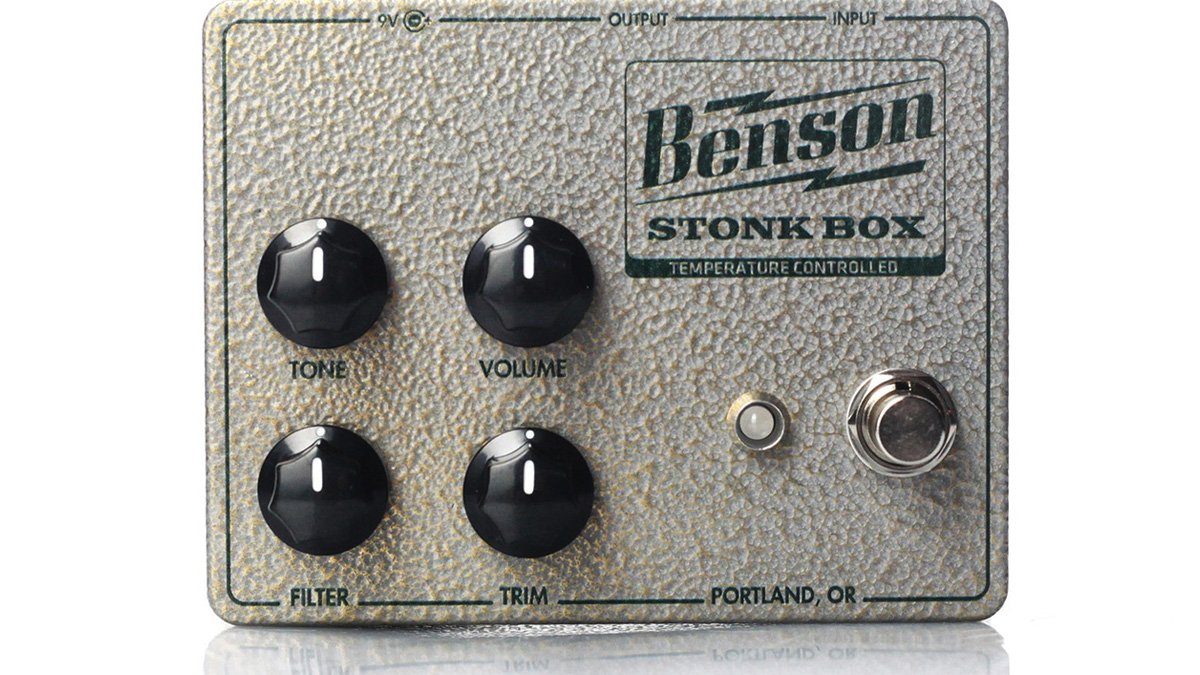 Writing on Instagram (opens in new tab), he thanked former Bowie guitarist David Torn for lending him a number of vintage fuzzes to compare and contrast. Comparing vintage units yielded all kinds of differences. That no two MKI variants sounded exactly alike made him feel better about the Stonk Box.
"I still don't know what it's supposed to sound like since I've never played an original," Benson wrote. "Looking at the circuit, something tells me they all sound different anyways. Had to go with the ears here. And repeated listenings of Satisfaction and Spiders from Mars-era David Bowie."
The Automatic Thermal Bias tech, allied to an expanded control setup that adds Tone and Trim dials to the traditional Filter and Volume controls, makes this a more versatile, more reliable proposition. 
The Trim control is a gain control that arrives before the transistors. Turn it all the way up to replicate a MKI out the box. 
Filter plays around with the gain and bias point of the first gain stage, and at low settings some of the low end will drop out and the gain will be pared back. 
Given their position in the circuit, both Trim and Filter are interactive, so there are sure to be plenty sweet spots.
As for the thermally controlled fuzz thing? That is not just some gimmick; it really is clever. In short, hook up the Stonk Box to a 9V DC pedalboard power supply, wait two to three minutes, and the circuit gently warms the germanium transistors (2N404 or 2N527) until they're good to go. When the LED on the front of the pedal turns green, you're all set. 
You might notice it turning back to amber again but don't be alarmed. That's just temperature regulation in action. And for germanium, which are to the transistor world what orchids are to horticulture, a consistent temperature is key.
The Benson Stonk Box is available now, priced, $279 / £289. For more details, head over to Benson Amps (opens in new tab).
Thank you for reading 5 articles this month*
Join now for unlimited access
US pricing $3.99 per month or $39.00 per year
UK pricing £2.99 per month or £29.00 per year 
Europe pricing €3.49 per month or €34.00 per year
*Read 5 free articles per month without a subscription
Read More