By
Zoe Guy,
a news writer who covers film, TV, music, and celebrities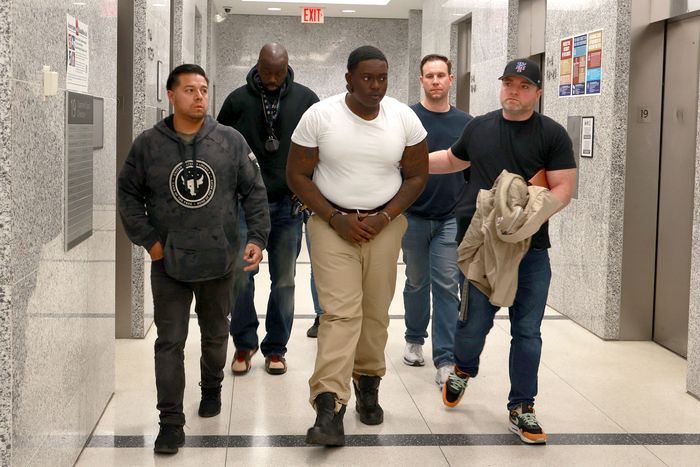 Sheff G inside the Brooklyn Supreme Court building.
Photo: New York Daily News via Getty Images
Sheff G and Sleepy Hallow, two prominent drill rappers, were among the 32 named as alleged members of Brooklyn-based gangs in a 140-count indictment brought on May 16 alleging shootings, gun possession, stealing cars to use for criminal activity, and conspiracy to commit murder. Kings County district attorney Eric Gonzalez claims that Sheff G, 24, whose real name is Michael Williams, used the money earned from his songs to "help facilitate further gang activity" and encourage alleged gang members with celebratory dinners, jewelry, and video appearances, per the New York Times. Sleepy Hallow, 23, whose real name is Tegan Chambers, faces conspiracy charges. The rappers are close friends and known as pioneers of the New York drill scene — Sheff G earned acclaim for his tracks "No Suburban" and "Weight on Me," while Sleepy Hallow is known for his songs "2055" and "Deep End." Sheff G is signed to RCA Records and a founder of the Winners Circle label, which represents Sleepy Hallow.
The indictment comes at an unfortunate time for both rappers — especially for Sheff G, who is currently serving a two-year sentence at Rikers for a gun charge. He was on track for release in June but now faces more time behind bars as a result of the new charges. The pair also had big plans to perform at hip-hop festival Rolling Loud in Miami on July 21. Below is everything we know about Sheff G and Sleepy Hallow's charges.
Brooklyn district attorney Eric Gonzalez, together with New York City mayor Eric Adams and police commissioner Keechant L. Sewell, held a press conference on May 16 to announce that the rappers were taken into custody and arraigned at Brooklyn's Supreme Court. Sheff G and Sleepy Hallow were arrested as part of a large-scale indictment involving 32 alleged members of Brooklyn-based gang 8 Trey Crips and its affiliated 9 Ways gang, which operate in multiple neighborhoods including Flatbush, East Flatbush, and Canarsie.
The 140-count indictment variously charges alleged members with second-degree murder, second-degree attempted murder, second-degree conspiracy, second-degree criminal possession of a weapon, first-degree assault, first-degree attempted assault, second-degree kidnapping, first-degree gang assault, first-degree attempted gang assault, second-degree assault, first-degree reckless endangerment, and related charges, per a press release. Prosecutors added that defendants allegedly conspired to eliminate rivals in the Folk Nation Gangster Disciples and the ICG Babiiez gangs. Gonzalez, the district attorney, said the indictment comes after a long-term investigation by his office's Violent Criminal Enterprises Bureau and the NYPD into shootings and gun possession, accusing the defendants of involvement in 12 shootings and one murder. Authorities heavily surveilled the group, combing phone calls, text messages, and social media posts for evidence. They claim that the alleged associates used pig latin to discuss their crimes over the phone.
Prosecutors accused Sheff G of ordering and funding shootings in Brooklyn. He was charged with two counts of conspiracy to commit murder in connection with multiple incidents — including a 2020 mass shooting on Folk Nation territory that killed one person and injured five others, per the Los Angeles Times. It is alleged that the rapper sent a text message to confirm that the 8 Trey Crips and 9 Ways members "scored against rivals," according to the press release, noting that a separate message to his sister contains pictures of the victims and news articles about the shooting. Sheff G allegedly hosted a festive dinner at Manhattan's Brooklyn Chop House to celebrate after the incident. He was also cited as a getaway driver for an 2021 revenge shooting in Flatbush that injured two bystanders on the scene. It was allegedly captured in surveillance footage.
The indictment named Sleepy Hallow as a co-conspirator. Investigators spotted the rapper in a video in possession of a gun with a co-defendant and appearing in a social media post that allegedly disrespects the rival gang's hand gesture. In a separate incident, prosecutors accuse the rapper of exchanging phone calls and text messages with a co-defendant the same day the latter allegedly stole a car that another member used during the aforementioned 2020 shooting that left one dead and five others injured, claiming he attended the celebratory dinner.
Prosecutors appeared to preemptively address the ongoing issue of authorities using song lyrics as evidence, saying that the arrests have nothing to do with art. "This is not an indictment of rap music," Gonzalez stressed. "In fact, this investigation did not rely on a single lyric to prove any of the alleged crimes." However, the indictment does have two instances of lyrics mentioned, citing the Sheff G track "For the Members" and a verse from a defendant's phone note, per Rolling Stone.
RICO stands for the Racketeer Influenced and Corrupt Organizations Act — a federal law established in 1970 to combat organized crime. (States have their own versions of this law.) Because of the difficulty of charging each member of a criminal organization at once, lawmakers give prosecutors the ability to charge anyone who engages in a pattern of racketeering activity (like murder, arson, bribery, money laundering, drug trafficking, and robbery) in connection to an enterprise. To be charged with a RICO violation, a person must have allegedly engaged in two of the aforementioned acts or have co-conspired with someone who did over the course of a ten-year period on behalf of an organization.
In this case, the co-defendants were variously charged with a total of 140 counts by the State of New York, not the federal government, so the charges cannot be federal RICO violations. In short: No, Sheff G, Sleepy Hallow, and their co-defendants are not facing RICO charges.
Both Sheff G and Sleepy Hallow will remain incarcerated while they await the next court hearing on August 9. A judge could potentially agree to release the rappers on bail. Before the May 16 indictment, Sheff G was serving a two-year term at Rikers for a state gun charge with his earliest projected release date set for June 15.
Everything We Know About Sheff G, Sleepy Hallow's Charges
Read More