All the trailers, reveals and release dates.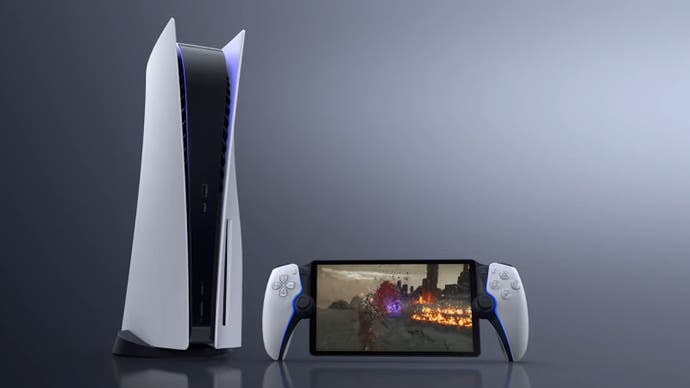 Sony's hotly-anticipated PlayStation Showcase is over, and we now have a clearer idea of what PlayStation 5 and PSVR2 owners can expect to hit their hardware over the next year. We got a lot of what we expected (Spider-Man 2, Metal Gear Solid 3 remake, Final Fantasy 16) and more than a few surprises.
In case you missed it, or if you just fancy a recap, here's everything announced during the show, including all the trailers, reveals and release dates. There's a lot to get through, so let's begin!
PlayStation Showcase kicked off with a cinematic trailer for Haven's PlayStation exclusive Fairgame$. It's described as a "competitive modern heist game where you team up to break into exotic locations and steal the cargo".
Next up, third-person co-op shooter Helldivers 2 from Arrowhead Game Studios.
Moving on to a new trailer for Ascendant Studios' first-person magic shooter Immortals of Aveum. This one's published by EA and is due out in July.
505 Games and One More Level revealed Ghostrunner 2 is coming to PC and consoles later this year.
Quickfire action RPG Phantom Blade Zero looks cool. It's from a developer called Cruel Man Studio. The debut trailer is below.
The next game from Giant Squid Studios, developer of Abzû, is Sword of the Sea. Trailer below.
Moving on, Croteam and Devolver Digital announced The Talos Principle 2 is due out this year. Here's the trailer.
Devolver Digital and Gris developer Nomada Studio announced Neva, due out 2024.
Switching gears, Cat Quest: Pirates of the Purribean looks like a cute little adventure. It's due out 2024.
Square Enix turned up with a game that looks remarkably similar to Nintendo's Splatoon. It's called Foamstars. Really. Trailer below.
This next game is more interesting. The Plucky Squire comes out this year and looks lovely.
Ever wanted to blow shit up in Minecraft? Teardown scratches that itch. It's out this year on console. Trailer below.
Up next we have one of the worst-kept secrets in video games: the Metal Gear Solid 3 remake. It's called Metal Gear Solid Delta: Snake Eater. Oh, and there's a new OG Metal Gear Solid collection, too. Snake has come to save us!
Next, from Dreamlit Games, is open-world builder Towers of Aghasba.
Here's the Final Fantasy 16 launch trailer. Clive in the house!
Epic and Remedy revealed the debut trailer for Alan Wake 2, due out 17th October 2023.
And here's our first look at Assassin's Creed Mirage, from Ubisoft. It's also out in October.
Finji announced Revenant Hill, the debut game from The Glory Society.
Cygames' action RPG Granblue Fantasy: Relink is due out this winter. Here's a trailer.
Street Fighter 6! I can't wait for this. The new trailer, below, focuses on World Tour mode, the single-player campaign.
Ultros is a psychedelic side-scrolling action game due out 2024. Don't stare at it too long, though.
Moving on, we have a launch trailer for Tower of Fantasy. This open-world RPG comes out this summer.
Finally, a trailer for Dragon's Dogma 2!
Five Nights at Freddy's Help Wanted 2 comes out late 2023. Trailer below.
Sony then moved on to PSVR2 games, starting with Resident Evil 4's hotly-anticipated VR mode. Trailer is below.
Sticking with PSVR2, we have a trailer for Arizona Sunshine 2, due out 2023.
Smilegate revealed PSVR2 shooter Crossfire Sierra Squad.
nDreams announced a 4th July release date for PSVR2 shooter Synapse. Here's the new trailer:
Beat Saber for PSVR2! Plus a Queen Music Pack. Don't stop me now…
Sony-owned Bungie revealed its next game: Marathon. It's a new sci-fi PVP extraction shooter. Teaser trailer is below:
Sticking with Bungie, we have a new trailer for Destiny 2: The Final Shape. Wait, is that who I think it is?
Concord is a new PVP multiplayer first-person shooter from Firewalk Studios launching 2024.
Here's a big announcement: Sony revealed Project Q, a DualSense controller with a screen, powered by the cloud. Take that, Wii U gamepad!
And here's the big finish: Insomniac's Spider-Man 2, due out this autumn as Sony's main PS5 exclusive. We start with a Kraven the Hunter reveal trailer:
And we end with a 10-minute gameplay video:
And that's all Sony had to show during its PlayStation Showcase! What do you think? Anything take your fancy?
Read More