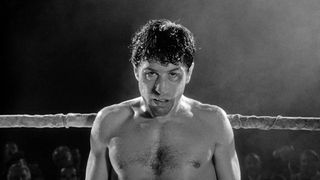 (Image credit: United)

Max, the new streaming service that combines HBO Max and Discovery Plus, is making changes to its movie library.
One Twitter user pointed out that the writer/director credits have been eliminated and instead lumped together in one large 'Creators' category. For example, the 'Creator' credits for Raging Bull list boxer Jake LaMotta, whose life and autobiography the movie is based on, as a 'creator' alongside Martin Scorsese, five writers, and two producers.
"We agree that the talent behind the content on Max deserves their work to be properly recognized," a Max spokesperson told IndieWire. "We will correct the credits, which were altered due to an oversight in the technical transition from HBO Max to Max and we apologize for this mistake."
The WGA and DGA also jointly sent statements to IndieWire, condemning Max's decision.
"For almost 90 years, the Directors Guild has fought fiercely to protect the credit and recognition deserved by Directors for the work they create," DGA President Lesli Linka Glatter said. "Warner Bros. Discovery's unilateral move, without notice or consultation, to collapse directors, writers, producers, and others into a generic category of 'creators' in their new Max rollout while we are in negotiations with them is a grave insult to our members and our union."
The new HBO Max (MAX) has eliminated writer/director credits in their interface in favor of a vague "Creators." This is what Raging Bull currently looks like. It's so fucking over. pic.twitter.com/gPveQ469GBMay 24, 2023
See more
"This devaluation of the individual contributions of artists is a disturbing trend and the DGA will not stand for it," she continued. "We intend on taking the strongest possible actions, in solidarity with the WGA, to ensure every artist receives the individual credit they deserve."
"Warner Bros has lumped writers, directors and producers into an invented, diminishing category they call Creators. This is a credits violation for starters," WGAW President Meredith Stiehm said in a separate statement. "But worse, it is disrespectful and insulting to the artists that make the films and TV shows that and make their corporation billions."
"This attempt to diminish writers' contributions and importance echoes the message we heard in our negotiations with AMPTP – that writers are marginal, inessential, and should simply accept being paid less and less, while our employers' profits go higher and higher," she continued. "This tone-deaf disregard for writers' importance is what brought us to where we are today – Day 22 of our strike."
For more, check out our guides to the WGA strike and Max.
Read More