If you click on a link and make a purchase we may receive a small commission. Read our editorial policy.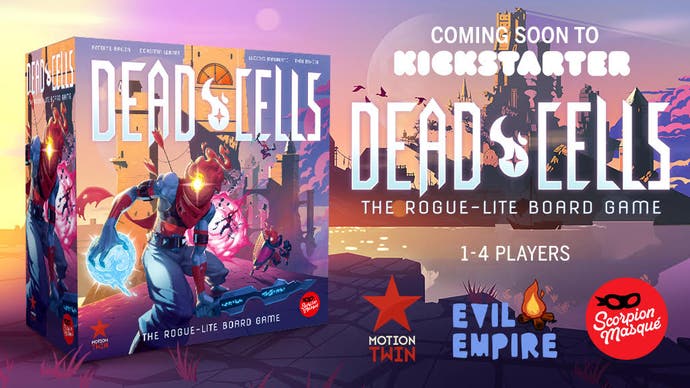 The Kickstarter campaign to crowdfund a new rogue-lite board game inspired by Dead Cells hit its target within 13 minutes, raising almost £400,000 more than its £29,764 target.
The board game – which can be played solo or with up to four players – was first unveiled back in March, and has been backed by over 5500 people.
"We can tell that the designers had played Dead Cells and that they weren't interested in simply doing a carbon copy," The Motion Twin team and Arthur Décamp, Dead Cells Game Director says of the project. "They had thought deeply about how to best adapt Dead Cells into board game format. The overarching principles of the game have been preserved (the energy, the visceral nature of combats, and the build options) without altering the experience expected for a modern board game.
"The result is a faithful, yet autonomous, adaptation that uses its reference point as a strong point and not as a constraint. We put our trust in the Scorpion Masqué team for editing and for the game's artistic direction, leaving them free for open interpretation, and the result did not disappoint us! We can easily recognise the game and its elements even without the images being copy-pasted straight from the video game. Our gamble paid off!"
Dead Cells: The Rogue-Lite Board game – described as an adaptation of "one of the best action video games" – is a game by Antoine Bauza, Corentin Lebrat, Ludovic Maublanc, and Théo Rivière, and will be published by Scorpion Masqué. The team says it has been developed "in close collaboration with the Motion Twin and Evil Empire studios". A game is expected to take around 45 minutes.
If you like the sound of it, head on over to Tabletopia, where you can try out the game's first biome – The Prisoners' Quarters – for free.
Read More