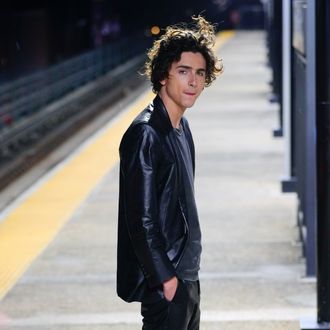 Timothée Chalamet is going from Barb to Bob. Chalamet is starring in James Mangold's A Complete Unknown as Bob Dylan. Mangold slipped Deadline some new deets on the upcoming project at Cannes while promoting Indiana Jones and the Dial of Destiny. A Complete Unknown centers on the fateful Newport Music Festival during which Dylan went electric. The moment has been depicted previously in Todd Haynes' I'm Not There. Also kinda in Factory Girl? Mangold told Cannes that Benedict Cumberbatch will be playing Pete Seeger in the film. Seeger was on the ground floor of Dylan standom, supporting the singer before he got famous and inviting him to Newport in the first place.
Joining Chalamet and Cumberbatch will be Top Gun: Maverick's Monica Barbaro as Joan Baez and Elle Fanning as a fictionalized Dylan paramour of the early 60's. Barring a SAG strike, A Complete Unknown is set to begin filming this summer.
A Complete Unknown: Bob Dylan Pic Stars Timothée Chalamet
Things you buy through our links may earn Vox Media a commission.
Read More